"Vitalizing Japan through Area Communication Design"
Map Marketing applies its GIS-based IT to help all kinds of local businesses (e.g. Stores, small schools) to grow in the regions where they are located. Map Marketing provides a mechanism that "conveys the information the customer wishes to disseminate to the optimum area through the optimum media" (Area Communication Design). Map Marketing endeavors to achieve local vitalization, vitalization of small to medium-sized retails businesses, vitalization of shopping districts and commercial facilities, vitalization of all types of local industries and, finally, vitalization of Japan (vitalization of society and "the world") through the dissemination of "Area Communication Design" throughout society.
Address
7F, DaiwaSasazuka Bldg., 1-64-8 Sasazuka, Shibuya-ku, Tokyo 151-0073
Branches
Osaka Branch
Oosakaekimaedai3 Bld.5F-10, 1-1-3-500, Umeda, Kita-ku Osaka-shi, Osaka, 530-0001
TEL.+81-6-6105-5960
FAX.+81-6-6341-4613
Nagoya Office
8C, Hermanos Buheicho Bldg., 5-3-6 Sakae, Naka-ku, Nagoya-shi, Aichi Prefecture 460-0008
TEL.+81-52-238-3033
Overseas Base
Map Marketing (Thailand) Co., Ltd.
14th Floor,BB Building 54 Sukhumvit 21 Road, Kwaeng Klong Toey Nua, Khet Wattana, Bangkok 10110.
Number of Employees
40 (Including contracted employees)
Business
– Development and sales of geographic information systems
– Training and education relating to geographic information systems
– Creation and sales of data relating to geographic information systems
What is Area Marketing and Commercial Regional Analysis?
Put simply, this term refers to the process of investigation to identify local characteristics such as "areas with an abundance of young families" or "areas with a growing population."
By identifying regional characteristics, Area Marketing and Commercial Regional analysis makes it possible to make geographical judgments that will prove useful when opening a new store or distributing advertisements. If, for example, a person wished to open a family-oriented store, the best choice of location would probably be a region where there are a lot of families. Again, if, for example, a business wanted to distribute advertisements for luxury cars, the logical choice would be a region characterized by a large number of high annual-income households.
GIS is the acronym for Geographic (Map) Information System.
There are many types of GIS and any digital system that shows information of one kind or another on a map falls into the category of GIS. A typical example familiar to everyone is the car navigation system. Map Marketing's TerraMap Series is an area marketing GIS or, in other words, a GIS used exclusively for area marketing and commercial regional analysis. By collecting statistical data for each area (administrative divisions of Japan, municipalities, larger sections of villages, town and street names and grids) from sources such as the national census, for example, this software facilitates identification of regional characteristics.
Introduction to TerraMap series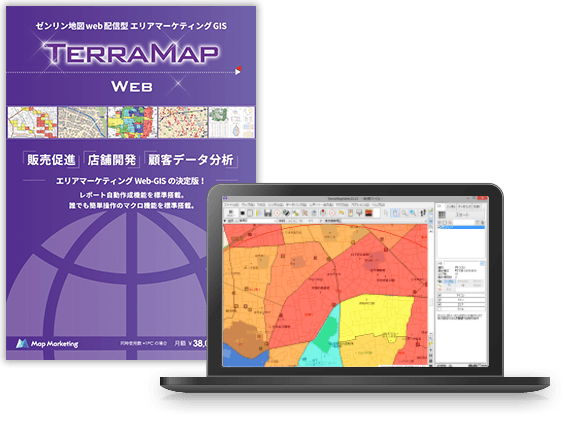 Town and street names & 500 m grid data/House-pinpoint mapping/Web format
User may log in from any PC. Address data mapping of optimum precision on the house number/lot number/building number level. A powerful tool for pinpoint marketing


Address
Mapping
Residence number
Lot number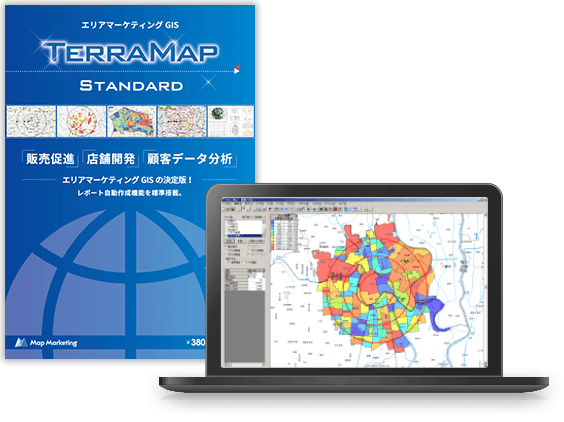 Nationwide town and street name polygon / national census data / stand-alone type
A package comprising a nationwide town and street name polygon and national census data The TerraMap Series features an abundance of functions and data needed for marketing and commercial regional analysis. Already in use in 2,000 companies! The TerraMap Series has the highest record of introduction as a marketing GIS.
Simulaneous
Log-in Medivod
Address
Mapping
Residence number
Lot number
Store Development

Use for Establishment of New Stores, Sales Volume Forecasts and Strategic Dominance. The TerraMap Series enables the user to carry out tasks such as making sales volume forecasts needed for store development and FC expansion, verification of strategic dominance and analysis of competitor stores. Collection of data on candidate properties and commercial regional data on existing stores enables the user to implement effective store-establishment planning.

Sales Promotion

Use for Advertising Inserts, Postings and DM The TerraMap Series enables the user to boost and optimize sales promotion by selecting sales promotion-target areas where a large target segment exists and also provides the capability to analyze (measurement of effects) responses after implementation of sales promotion.

Customer Data Analysis

Effective Use of Member's Data and POS Data The TerraMap Series enables the user to acquire data from sources such as point cards, POS systems and member lists for use in analysis of area shares and customer distribution, for example. This gives the user a picture of actual commercial areas that will make it possible to form sales strategies and realize strategic dominance.

Customer Data Management

Use for One-to-One Marketing The TerraMap Series allows the user to acquire data on an address-precision level of house number/lot number and building number for pinpoint control on maps, making it possible to optimize practical aspects such as house visits and route sales to support each client household.
Attention: Due to the regulation of GDPR, we are suspending our response from EAA region entities.
Please submit enquiries by e-mail. Please note that responses to enquiries submitted in languages other than Japanese may take time. English versions of products are not available at the present time. Use of Japanese versions in countries outside Japan will be subject to prior investigation.
資料請求

弊社で取り扱うTerraMapシリーズや、データ・機能の詳細等を記載した資料をお取り寄せいただけます。この機会に是非お申し込みください。お客様のご要望にあった資料をお送りいたしますので、疑問点等ございましたらお気軽にご記入ください。

デモ予約

GISの導入・買い替えをご検討いただいている法人様に、導入前の機能確認・比較検討の場としてデモンストレーションを実施致します。個々のご要望に応じて専門スタッフが幅広く対応させていただきますので、どうぞお気軽にお申し込みください。

?

よくあるご質問

エリアマーケティングGISに関してや、弊社のサービスについてのご質問など、代表的な例を掲載しております。ここに掲載されていない内容でご不明な点は、直接お問い合わせいただければ、担当者が早急に対応させていただきます。